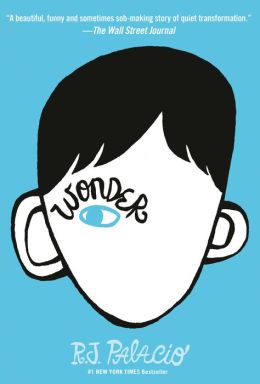 Title: Wonder
Author: R. J. Palacio
Pages: 310
Language: G
Content: PG
Level: Upper Elementary/Middle/High School
Recommendation: Must Read
Summary:
I won't describe what I look like. Whatever you're thinking, it's probably worse.
August Pullman was born with a facial deformity that, up until now, has prevented him from going to a mainstream school. Starting 5th grade at Beecher Prep, he wants nothing more than to be treated as an ordinary kid—but his new classmates can't get past Auggie's extraordinary face.
WONDER
, begins from Auggie's point of view, but soon switches to include his classmates, his sister, her boyfriend, and others. These perspectives converge in a portrait of one community's struggle with empathy, compassion, and acceptance.
Review: I can't say enough about this book! I wish every LA class could read this outloud so that all students could see how their actions can hurt, hinder, or help their peers, and how Kindness can change lives. I wanted to write down quote after quote of this book. Although August is a young boy, readers of all ages can enjoy this book.