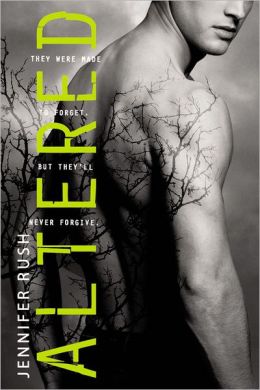 Title: Altered
Author: Jennifer Rush
Pages: 323
Language: PG13/R (15+ swears, 8 "f")
Content: PG13/R (violence)
Level: High School
Recommendation: Good read, but optional
Summary:
They were made to forget. But they'll never forgive.
Everything about Anna's life is a secret. Her father works for the Branch, at the helm of its latest project: monitoring and administering treatments to the four genetically altered boys in the lab below their farmhouse. There's Nick, solemn and brooding; Cas, light-hearted and playful; Trev, smart and caring; and Sam . . . who's stolen Anna's heart. On the run, with her father's warning in her head, Anna begins to doubt everything she thought she knew about herself. She soon discovers that she and Sam are connected in more ways than either of them expected. And if they're both going to survive, they must piece together the clues of their past before the Branch catches up to them and steals it all away.
Review: Although told from Anna's point of view, this story has enough action, adventure, mystery, and violence for a male audience. The story captivated me from the beginning, and I had to finish the book! The plot kept twisting and turning, and I found myself hoping to find out more information about the characters and their past. I would love to recommend this book to readers galore, if only there weren't so much violence (shooting) and swearing.