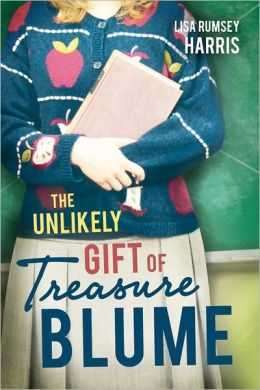 Title: The Unlikely Gift of Treasure Blume
Author: Lisa Rumsey Harris
Pages: 304
Level: High School
Content: PG
Language: G
Recommendation: Good Read
Summary: With her love of sweaters, goofy hair, and awkward manners—-not to mention her family curse—-Treasure Blume knows love is not in her future. That is, until she matches wits with Dennis Cameron, a divorced chef with a six-year-old daughter. Full of mischief, mayhem, and laugh-out-loud humor, this is an unlikely love story you'll want to read over and over again!
Review: Witty humor, great characters, and a fun read! It conveys an important and timely message about looking past exteriors to find inner beauty.
Treasure is the most "unlikely" heroine you can imagine. She is awkward, old-fashioned, and completely clueless. But she is also compassionate, honest, and real. Grammy Blume, Treasure's ancestors, Bonnie (the villain), the Steppers geriatric dance team, and even the kids in Treasure's first grade class added their own flavor and color to the story.