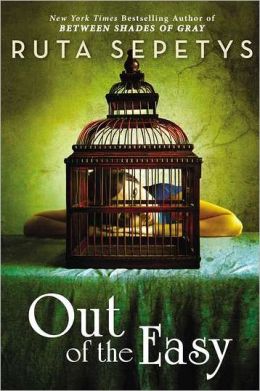 Title: Out of the Easy
Author: Ruta Sepetys
Pages: 346
Content: PG13
Language: PG
Level: High School
Recommendation: Optional
Review: It's 1950, and as the French Quarter of New Orleans simmers with secrets, seventeen-year-old Josie Moraine is silently stirring a pot of her own. Known among locals as the daughter of a brothel prostitute, Josie wants more out of life than the Big Easy has to offer. She devises a plan get out, but a mysterious death in the Quarter leaves Josie tangled in an investigation that will challenge her allegiance to her mother, her conscience, and Willie Woodley, the brusque madam on Conti Street. Josie is caught between the dream of an elite college and a clandestine underworld. New Orleans lures her in her quest for truth, dangling temptation at every turn, and escalating to the ultimate test. With characters as captivating as those in her internationally bestselling novel
Between Shades of Gray,
Ruta Sepetys skillfully creates a rich story of secrets, lies, and the haunting reminder that decisions can shape our destiny.
Review: I LOVED the author's first book,
Between Shades of Gray,
and was anticipating another book from this author. When I knew she had a new book, I was a bit saddened when I realized the book was about a prostitute's daughter. I loved the character in this book, as well as the peculiar, yet loving people who took care of Josie in the only ways they knew how. I would be hesitant however, to have this book in my library simply due to the subject matter invovled. Although there is nothing graphic in the book, there are enough references to prosititution and subject matter of the like that I don't feel that I could recommend this book to the majority of the readers in our school.