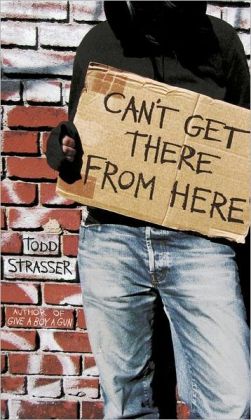 Title: Can't Get There From Here
Author: Todd Strasser
Pages: 198
Level: High School
Language: PG13 (0 "f")
Content: PG13
Recommendation: Good Read
Summary: Tired of being hungry, cold, and dirty from living on the streets of New York City with a tribe of other homeless teenagers who are dying, one by one, a girl named Maybe ponders her future and longs for someone to care about her.
Review: Very realistic, but dark and somewhat depressing, the book follows a group of runaways living on the streets of New York City. A quote by one of the characters, OG. "Here is where you are. There is where you want to be. But you can't get there from here."
Although there was not a lot of foul language, but it does touch upon mature themes, such as sexual abuse, physical abuse, alcohol poisoning, suicide, drug use and prostitution. Any teen or grown up who has ever contemplated running away from home should read this book.