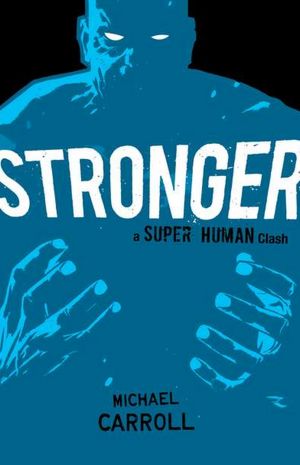 Title: Stronger
Author: Michael Carroll
Pages: 370
Level: Middle School/High School
Language: G
Content: PG (violence)
Recommendation: Good Read For Guys
Summary: The critically acclaimed Super Human series reaches its shocking conclusion. All Gethin Rao wants is to be like every other boy his age. But normal twelve-year-olds aren't blue. And they certainly aren't thirteen feet tall. That's what happens when his superpowers kick in. And from that moment on, his life is never the same. Treated as a villain—a monster—Gethin spends the rest of his life on the run or as a prisoner in a secret military facility.
When he finally escapes, he falls in with a group of superpowered teens and becomes the one thing he never thought he'd be: a hero. But as the years pass by and he takes the name Brawn, Gethin learns that being a good guy is a lot more difficult than he thought.
Review: Think comic book in novel form. Readers who enjoy comics and superheros will be drawn into this book. Although at times the book seemed disjointed, due to flashbacks of how Brawn became super human, I wanted to know what happened to him! I read this book, even though I hadn't read any of the other Super Human books, but am now intrigued to read more.