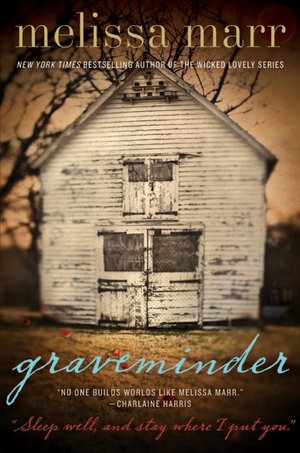 Title: Graveminder
Author: Melissa Marr
Pages: 324
Content: PG13
Language: R
Level: High School
Recommendation: Optional
Summary: Rebekkah Barrow never forgot the tender attention her grandmother, Maylene, bestowed upon the dead of Claysville. While growing up, Rebekkah watched as Maylene performed the same unusual ritual at every funeral: three sips from a small silver flask followed by the words,
"Sleep well, and stay where I put you."
Now Maylene is gone and Bek must return to the hometown—and the man—she abandoned a decade ago, only to discover that Maylene's death was not natural . . . and there was good reason for her odd traditions. In Claysville, the worlds of the living and the dead are dangerously connected—and beneath the town lies a shadowy, lawless land ruled by the enigmatic Charles, aka Mr. D. From this dark place the deceased will return if their graves are not properly minded. And only the Graveminder, a Barrow woman, and the current Undertaker, Byron, can set things to right once the dead begin to walk. . .
Review: I was quickly enthralled with this book, and eager to see what happens throughout the story, however I was quickly turned off by the language used in the book, and am sad to say that I didn't finish the book. I would LOVE to continue this story, if only I could get past the language. This book would be a good read for less conservative readers - it is full of suspense, twists, and turns.